Children's Programs
Registration for all programs is required. Call 570-474-9313 or stop in at the library to register for the following programs:


Regular weekly Story Hours will be held as follows for the month of June:


---
Lapsit - 0-23 months
Thursdays, June 7, 21, & 28 - 9:30am


---
Story Time - Ages 2-3 1/2
Wednesdays, June 6, 20, & 27 - 11:00am


---
Cruise Into Kindergarten for Kids & Parents - Ages 3 1/2 - 5
Fridays, June 8 & 22 - 11:00am


---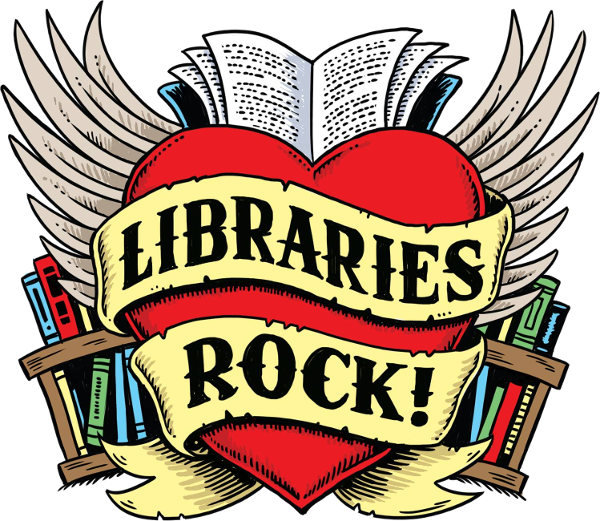 Summer Quest Registration
Begins Tuesday, June 12!


This year's theme for our Summer Program is "Libraries Rock." We will have programs for all ages centered around music, art, science, building, and more. Pick up a calendar and register for programs when you sign up for Summer Quest and get your game board.

Register for Summer Quest and receive a copy of a game board shaped like a music note. On the back of your game board, you will find categorized lists of activities. Each category has a different color. Check off each activity under each category as you complete it, and then use the colors for each category to color your music note. Everyone who registers and takes a game board will get a prize bag at the end. Those who fill their whole music note will receive an additional prize.

There will be contests throughout the summer, so you'll have chances to win even more prizes!


---
Register for the following programs beginning Tuesday, June 12


---
Make a Father's Day Card
Friday & Saturday, June 15 & 16

Visit the library and make a Father's Day card. No registration required.


---
Summer Quest Kick-off Party for Kids
Tuesday, June 19 - 6:00pm

Children ages 2-11. Older/younger siblings welcome.

Pick up a calendar and game board (if you haven't done so already).
Sign up for programs (if you haven't done so already).
Paint rocks with us.
Feel free to bring rocks from home (or wherever you find them!)
We'll provide the paint.


---
Super Smash Bros. Wii U Tournament
Wednesday, June 20 @ 2:00pm


Ages 4 & up (Similar ages will be placed in the same bracket)
Those attending are asked to bring a fully charged controller for Wii U.
Please make sure there is something on the controller to easily identify it (for example, a piece of tape with your name).
Registration is required. Let us know if you will be bringing a controller with you.


---
Make Your Own Maracas
Thursday, June 21 - 2:00pm

Grades K-2. Older/younger siblings welcome.

We'll be using:
Plastic eggs,
Washi tape,
Plastic spoons,
Dry Beans


---
Musical Air & Water
Saturday, June 23 11:00am - 12:00pm
Presented by Herb King

Make music with water and air! Use straws, glasses, and tubes to make music in a very simple way.


---
Binghamton Zoo Animals
Tuesday, June 26 Ages 3 & older

2 shows 4:30pm - 5:15pm or 5:30pm - 6:15pm. You may register for only one session. See, touch, and learn about our animal friends from the Binghamton Zoo. Registration is required and limited.


---
Rockology Academy Student Bands
Grades K-6

Please pre-register between June 12th and June 22nd.
This year's Summer Quest theme is: Libraries Rock!
Come rock out with us and learn about the instruments used to play the music.

Special thanks to Joe Nardone, Jr, and the students from Rockology Music Academy.


---
That Animal Does What?
Thursday, June 28 Ages 8 & up 2:00pm
Presented by Herb King

Explore the strange world of animals and see what they can do.
Bring pictures of your favorite animals or of ones you own.


---
Mud Day at Nescopeck State Park
Friday, June 29

Join Miss Laura at the park from 9:00am - 12:00pm


---
Furry Tails Reading Partners


Is your child a shy or hesitant reader or do they just love to read?
Angie visits the library at 6:30pm on the fourth Wednesday of every month!
Call or visit to sign your child up to read to this gentle, certified therapy dog!
Her next visit is Wednesday, June 27.


---