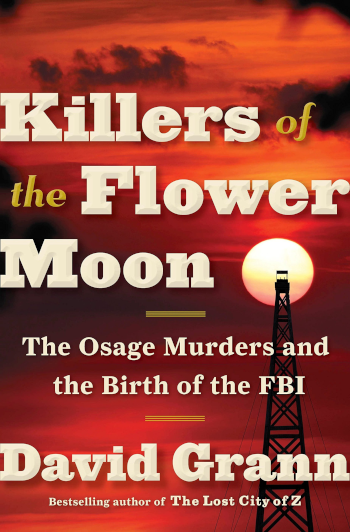 Kirby Book Club
Saturday, March 23 - 1:00pm
The selected book is Killers of the Flower Moon by David Grann.


In Killers of the Flower Moon, David Grann revisits a shocking series of crimes in which dozens of people were murdered in cold blood. Based on years of research and startling evidence, the book is a masterpiece of narrative nonfiction, as each step in the investigation reveals a series of sinister secrets and reversals. But more than that, it is a searing indictment of the callousness and prejudice toward American Indians that allowed the murderers to operate with impunity for so long. Killers of the Flower Moon is utterly compelling, but also emotionally devastating.


---

Socrates Cafe


Wednesday, March 27 at 6:30pm.
Conducted by Steve Wallace
Adults from all walks of life gather for
conversation and intellectual interaction.
The group meets the fourth Wednesday
of the month in the Reading Room.
Registration is not necessary just show up!


---


Career Counseling Program at M.S. Kirby Library


Whether you are looking for a change from your current occupation, in need of a secure job, or will be actively seeking employment as a new college graduate, don't miss the program Pursuing a New Job? Differentiate Yourself in Today's Competitive Market!

On Tuesday, April 2 at 6:30pm, Greg Ready of GAR Associates, Executive Recruiting and Consulting Services will present the program at the Marian Sutherland Kirby Library.

The program will focus on:
- Overview of recruiting ... what to know about it and why it is important.
- Writing a quality resume ... what that means and why it is important.
- Prepare yourself to nail the interview! ... from the interviewer's perspective.

GAR Associates provides recruiting services to consumer goods companies, sales and marketing organizations, distributors and wholesalers, accounting and financial services providers, and customer service groups. GAR Associates also provides coaching and guidance to individuals who are hoping to secure their first job, land that next promotion, or need out-placement assistance after a job elimination. Greg can help you stand out from others by successfully marketing yourself, writing a quality resume or CV, projecting a professional image, and preparing for and nailing your interviews.

Before establishing GAR Associates, Greg spent 35 years in the financial services and snacks/food industries. During this time, he held numerous management positions and new business implementation roles in Finance, Sales, Reporting/Analysis, Logistics (Warehouse and DSD), Supply Chain, and Customer Service.

This program is free and open to the public but registration is required. Register in person by visiting the library at 35 Kirby Ave., Mountaintop or by calling 570-474-9313.


---


OPIOID AWARENESS
Wednesday, April 10 at 6:30pm


Presented by Eileen Panzarella, Director of Prevention Education at Pathway To Recovery Counseling and Education Services Discussion will include information on what opioids are, how people are getting addicted to them, the dangers of misuse, recent statistics on overdose deaths in Luzerne County, & ways the area is trying to combat this crisis.

A "Mock Teen Bedroom" will be on display to show parents and guardians how drugs can be hidden in plain sight.

Registration may be done by calling 570-474-9313 or by visiting the library at 35 Kirby Ave., Mountaintop.


---


Understanding the Home Buying Process
Wednesday, April 17 at 6:30pm
Presented by Realtor Pam McGovern & Senior Loan Officer Daniel Zlockie


A discussion of the entire home buying process from start to finish!

Topics include:

* Selecting a realtor & learning what they do

* Types of mortgages, closing costs & private mortgage insurance

* The difference between pre-approval & pre-qualification & how to obtain them

* How to afford closing costs with Seller Assist

* Inspections, appraisal & timing for the entire real estate process & more!

Call 570-474-9313 to register or visit the library at 35 Kirby Ave.


---
---
COLOR ME CALM!
Wednesday, July 17, 6:00 - 7:30pm

Relax and recharge by spending some quiet time
coloring your cares away while listening to soothing music!
Coloring pages & supplies will be provided
or feel free to bring your own.

Register at Circulation Desk or call 570-474-9313.


---
Free Computer Classes
Are you or someone you know struggling to learn the basics of computers?
Join one of our free classes today simply by calling or visiting the library to sign up!

Adults ages 18 & older may choose from two basic computer classes.

Beginner Computer Lessons
Every other Thursday from 2:00pm - 3:00pm.
One-on-one training of basic computer skills.
Intended for people with no previous experience.

Second Level Computer Lessons
Every other Wednesday from 3:30pm - 4:30pm.
One-on-one training for email and web browsing.
Great if you already know the basics!


---